When making a product, its creator knows it through and through. Woke up at three o'clock in the morning, he can point out every detail and tell you how it works. Then you forget about the fact that the work will be used by the recipient, who has no idea how to run the device or create an account in the service. Well, I have to be honest with you that this was the case with Gameeit, and that's why this guide was written.
First thing we're gonna need is a Steem account. There are plenty of ways to get it - you can set it up with Steemit, SteemFounders, pay in STEEM or ask someone on Steem.chat or a discord. Now you have to register on our website: Click. You log in using Steemconnect (a safe form of logging in, in which you do not give us your keys) and apply for admission to the group of authors. You send, and as soon as you are accepted, access the editorial panel.
From now on, you are legitimate editor of GameeIT. To write a text, click on "Write new". Enter the title, type the first words and place a link to the thumbnail (preferably hosted on busy.org/steempeak.org). NOTE: the link to the thumbnail should be provided without tags, while in the text the images must be in the format ![](link from the hosting). We recommend sending to approve after the first paragraph - thanks to that it will be saved as a draft ("Your articles" tab), and you will be able to edit it without worrying that your computer will suddenly collapse and you will lose everything. When the text is ready, you can inform us or wait until we look into it. It is most convenient if you join the editorial discord channel.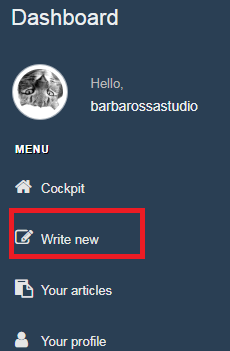 It's as simple as a that. And now a few answers to your questions:
Why should I write in your magazine instead of on my own blog? Gameeit is specially designed for gaming content than typical Steemit blogs. We have categories, promote our articles and searching for additional support. In addition, in the future, each author will have the opportunity to earn a share and additional income in the distribution of profits for a given period.
Can I write about XYZ? We do not have strict guidelines for the texts. Currently we are aiming at new and underestimated indie games, but we have nothing against journalism, hardware reviews, SteemMonsters strategies or mentioning games from 20 years ago. Let's hope it's interesting and fairly well written. An example: The review of Skyrim doesn't make sense, the game is very popular and almost everyone has already played it, but the article about how this game has changed the industry - most of all.
Do you provide games for review? We're trying to get review copies. At the moment we have managed to get a few copies of indie games. Everything is connected with popularity - the bigger the service, the more favorable the publishers will look at us.
Are there any additional benefits? We run contests for authors. Recently we have been giving away $10 worth of starters for Steem Monsters, and soon we will start promoting other games.
In what form will I receive my payment? With HF 20, withdrawals are automatic, you will receive both Steem/SBD and Steem Power.
Join us, we are waiting for you!
---
Our articles are supported by @jarunik - ARK Delegate
Join Steem gaming community on SteemGC and OPGaming!